Temporary Use of University Space Website
This form includes links to COVID-19 guidelines and City of Toronto guidance. It also has the Campus Access Form that is mandatory for students to complete.
2) Students must include a script that clearly identifies what the location of each scene is. All questions on the form must be answered for the form to be reviewed. Locations that are available are outlined on the form. A screen shot is below.
Note: Based on availability AMPD has many options, including: locker rooms, office space, studios and performance spaces. Those booking should follow the normal process that goes through Terry Wright in AMPD.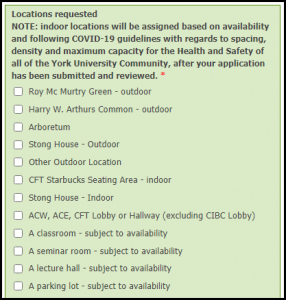 3) Once the form is received at TUUS, spaces will be confirmed and TUUS will communicate with the student via email.
4) Consultation with campus partners will be done via email which will include the student. If campus partners have any questions/concerns they will write to the student directly and will expect a response so students should be sure to check their email regularly once the form has been submitted.
5) If the film shoot is approved, the student will receive, a Notification via email from TUUS to allow them to proceed with the film shoot. This email should be kept available either in hard copy or electronic copy should Security ask for proof that they have permission to film on campus.