IMPORTANT UPDATE- Feb, 1, 2021 NEW ACTRA SAFETY/TESTING OUTDOOR SHOOTS
__________
Update: Friday, January 29th – Test Process for Student Film Shoots during COVID-19
Thank you all for meeting with us to discuss the process for students to complete film shoots during COVID-19. Your input and concerns were appreciated and taken into consideration. Thanks also to our campus partners that helped to locate/identify spaces that can be booked and for their feedback.
We have made significant progress in the past couple of days with creating a new form and identifying available spaces for students to film on campus.
The process going forward is as follows:
This form includes links to COVID-19 guidelines and City of Toronto guidance. It also has the Campus Access Form that is mandatory for students to complete.
2) Students must include a script that clearly identifies what the location of each scene is. All questions on the form must be answered for the form to be reviewed. Locations that are available are outlined on the form. A screen shot is below.
Note: Based on availability AMPD has many options, including: locker rooms, office space, studios and performance spaces. Those booking should follow the normal process that goes through Terry Wright in AMPD.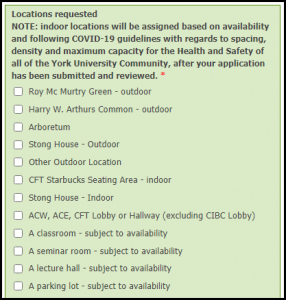 3) Once the form is received at TUUS, spaces will be confirmed and TUUS will communicate with the student via email.
4) Consultation with campus partners will be done via email which will include the student. If campus partners have any questions/concerns they will write to the student directly and will expect a response so students should be sure to check their email regularly once the form has been submitted.
5) If the film shoot is approved, the student will receive, a Notification via email from TUUS to allow them to proceed with the film shoot. This email should be kept available either in hard copy or electronic copy should Security ask for proof that they have permission to film on campus.
Felicia Sukhu
She/Her
Administrative and Events Planning Assistant
Office of Temporary Use of University Space/Ancillary Services
___________
Dear CMA Students,
Thank you for sending us your many concerns, especially in the letter you have circulated regarding the complex situation that we face this semester. First, I wanted to acknowledge that we have received your concerns, and to assure you that we will continue to respond with updates as we receive further guidelines about how Ontario's emergency stay-at-home order affects our programs. As you will understand, we are required to adhere to health and safety protocols and any legal implications of the stay-at-home order. We are working with offices across York University to understand and comply with the province's order. As we recognize that these are requirements, we also wish to outline the options all AMPD students have to complete their coursework for the Winter 2021 semester.
We would like to advise you on several key points:
In the Fall the editing suites were not available, but they are available in the Winter 2021 semester for those students enrolled in courses that require them. Editing suites are bookable through Jonathan Hedley (jhedley@yorku.ca). This change was announced at previous Production Area meetings.
The Equipment Room has remained open to book out equipment since September and is still available to students through the Winter term. It is open 7 days per week. Availability of equipment is based on the year and course of study. Please visit Film411 for details and to access the online equipment request forms. Please note that is now taking longer to turn over equipment when it is returned to the Equipment Room due to the need for enhanced cleaning procedures.
We have today received confirmation that the current guidelines do allow for outside gatherings provided there are not more than five people. This means that students are approved to shoot individually or in groups up to 5 outside while off campus. Students continue to be permitted to film in groups up to 5 outside while on campus, and in groups up to 10 in approved campus buildings. Please follow all health and safety protocols as outlined by the province at all times, including wearing masks, physical distancing, and regularly washing your hands.
While students can film in groups of 5 outside, casts and crews made up of students from different households cannot gather inside a single household for a film shoot. This act would breach the stay-at-home order's specific requirement that households do not mix inside private residences. A shoot inside your own home can proceed only with members of the household in question.
Please note that while filmmaking has been designated as essential under the new stay-at-home order for the professional film industry, this does not apply to post-secondary training in film production. We must abide by the guidelines given to universities.
While the province's current stay-at-home order is set to end on 10 February 2021, the AMPD Dean's office is working on the presumption that the order will be extended potentially through the end of the semester. We are planning on this basis, with the option of changing course if the order is indeed lifted.
Please note that these points constitute what we know as of this moment. We recognize that at any time there could be a change in direction issued by our public health authorities and the provincial government. We all need to comply with public health guidelines. As always, please visit the YU Better Together website (https://yubettertogether.info.yorku.ca/) for up-to-date information.
I want to personally thank you for your patience and your perseverance. This semester presents us with extraordinary circumstances. While we work to ensure that you may complete your semester, the health and safety of our students, staff and instructors are our first priority.
With kind regards,
Mike Darroch